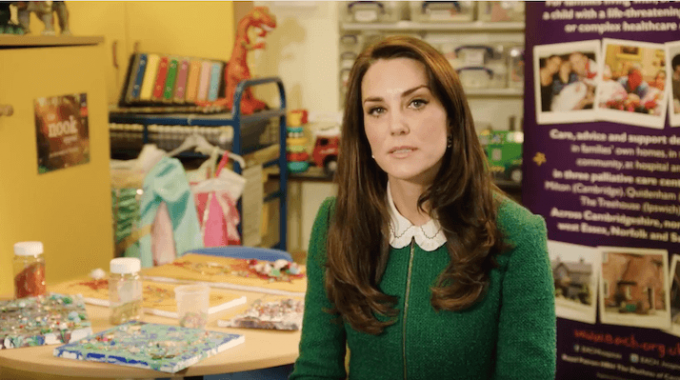 Duchess of Cambridge Kate Middleton Video Seeks to Raise Hospice Awareness
Duchess of Cambridge Kate Middleton filmed a new PSA video this week to raise awareness about one of her favorite causes: children's hospice. The video, released early Monday, seeks to garner support for East Anglia Children's Hospice (EACH). It was released just one day after her sister Pipa's high-profile wedding.
In the PSA video, the Duchess of Cambridge asks the general public to join her for Children's Hospice Week to recognize the exceptional work being done in palliative care and hospice for the estimated 49,000 children and young adults receiving end-of-life care in the U.K. The goal of the PSA is to increase awareness for such services so families know where to turn for support when a child is given a diagnosis of a life-limiting illness.
"For any parent, being told that your child may have a life limiting condition or may die young will be one of the most difficult and isolating experiences you can face," Middleton said in the PSA, filmed at East Anglia Children's Hospice in Quidenham, Norfolk. "Having someone to help you come to terms with this news, and the professional care and support that comes with this, can make an enormous difference. It can help families make the most of every precious moment they have together."
Kate Middleton announced her royal patronage of East Anglia Children's Hospice in 2012. She has helped establish relationships with children's hospices around the world, including in Malaysia, Australia, South Africa, and New Zealand. Her work to support the hospice's efforts have helped to raise money to improve care for children, as well as bring royal attention to a cause that had previously seen little limelight.
"As patron of EACH, I have seen the incredible difference that children's hospice and palliative care services can make for children, young people and their families. Across the U.K., more than 49,000 children and young people have life limiting conditions. For these families, having expert care and support is vital, and this is what children's hospices provide," the Duchess of Cambridge said in the PSA. "They deliver first class care in a safe environment that feels as close to home as possible, full of color, warmth, love and support."
"Today, as we mark the beginning of Children's Hospice Week, I hope you will join me in shining a light on the dedicated and inspirational staff and volunteers and the lifeline services they provide for children and their families," Middleton concluded. "The work they do is extraordinary, and it really does make a world of difference."
This is the second PSA video recorded by Duchess of Cambridge Kate Middleton. The first was recorded and released in April of 2013 to mark the start of Children's Hospice Week, a U.K.-wide fundraising campaign to celebrate the work of children's hospices and palliative care providers. This marked a first major increase in fundraising for the East Anglia Children's Hospice, which took in record donations that year. Since the duchess' patronage, fundraising and cause awareness campaigns have seen a marked improvement in success. Funds raised have helped children and their families across the U.K. who face life-limiting illnesses.